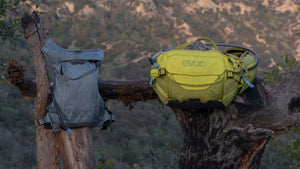 Are Hydration Vests Better Than Hip Packs?
No, of course not. But they're actually pretty cool.
Published on BETA
Words by Travis Engel
Get ready, folks. We're about to give an authoritative answer to a question you never asked. After all, the hydration vest was made for ultra-runners. People who wear tank tops and nipple pasties and tiny white baseball hats with drawstrings. Hydration vests focus their weight high on your back while most bike-specific packs aim to do the opposite. They offer all the discomfort of wearing a traditional pack without any of that pesky carrying capacity. This is why we at Beta have allowed any vest sent for testing to go stale on the shelf like the loaf of Panettone your aunt sent you for Christmas.
But then, EVOC made one. We didn't expect anything fundamentally groundbreaking from their new Hydro Pro vests, but these two happen to have the same fluid capacity (1.5 liters) and the same storage capacity (also 1.5 liters). And beyond that, EVOC tends to make thoughtful design decisions. So, although this is mostly an exploration of concepts, not a review of this specific hip pack or hydration vest, Evoc's approach of each should be on the shortlist for anyone considering either.
You already know what it's like to use a hip pack. That's probably not why you're reading this. But because the hip pack is the baseline for compact on-body storage, it seemed like the logical place to start. And after spending a couple months using something completely different, I've learned a lot about what I do and don't like about hip packs, particularly hydration hip packs like EVOC's Pro 3. Since peeves are always juicier than praise, let's start with what I don't like...
Now, remember, I also had some harsh words for the hip pack, and none were harsh enough to be deal-breakers. Same goes for my complaints about the hydration vest, because I found several things I actually liked about it. Least surprisingly, it's easy to drink from. I actually used a shorter hose during testing, though the original hose is pictured in these photos. Just long enough to reach my mouth, but not long enough to flop around after I abandoned the magnetic clip. It even took less force than a traditional pack to do the actual drinking.
Rather more surprising was the fact that it always stayed put. I expected that, on steep trails, it would jump up and crowd my neck, given that there's no waist strap. EVOC uses a double chest strap that actually holds everything in place, and it helped that some of the weight is up front cantilevered opposite the bladder and main compartment. It does get a little tight in there when the reservoir is full, but that leads me to one of the more nifty perks of the hydration vest...