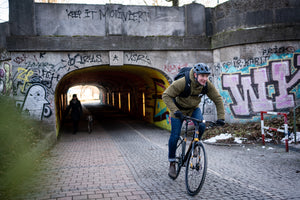 A FEW SIMPLE TIPS TO GET YOU ROLLING
Words by Lars-Erik Johnson
I've spent most of my life riding bikes. From the first feeling of coasting down the driveway on my sister's hand-me-down Schwinn I was hooked. Freedom. Flying. Unimaginable fun…well before I had to try pedaling back uphill anyway. But I soon mastered that too, and now enjoy the rhythmic ticking over of the pedals that seems almost like my own life-giving pulse.
But I wasn't always a bike enthusiast. I liked it, but was relegated to the usual ten speed bike that was the norm of my middle America upbringing at the time. My mom wouldn't give in to my desire to get a BMX bike…those 'wide handlebars' just looked too dangerous. So it wasn't until I was off to college that I exercised some of my new found freedom to buy my first mountain bike. At the time it was solid transportation, but it proved to be more than that. It was a stepping stone to a long term active lifestyle, one not dominated by car dependence.
For a long time, I didn't have a car. I either rode my bike or took public transportation. I even worked on my bike, doing stints as a bike messenger in both Seattle and Oslo, Norway. Life was pretty simple, and short of occasional weekend trips up to the mountains, I really had no need for a car.
So what things have I learned about getting around and commuting by bike? They're pretty simple really, and things that might even fall into the realm of common sense. But sometimes you don't know until you go, and if that's you, then let me help you out with a few tips.
Carry Tools
If you're taking the leap to bike commuting, then it's likely you already ride an amount for exercise and fun. Would you venture miles from home on the weekend without at least a little fix-it kit? (I hope not.) Then you shouldn't go without on your way to work either. And if you get sidelined on your Monday morning ride to the office, then it's unlikely you can just call someone to come pick you up…because they're on their way to work too.
Mechanicals happen. Whether you get a flat tire or something just slips out of adjustment, it's good to be able to handle situations to get yourself moving again. I'm not saying you need a full tool box, but some essentials like a spare tube, pump, tire levers, and multi-tool will go a long way in getting you out of a jam. I have a dedicated seat bag that carries what I need, short of the pump, and it just lives under my saddle so I never need to worry about forgetting something.
Use Lights
Visibility is a bicyclist's best defense in avoiding collisions with motorists. 'I didn't see…' is almost cliche in accident reporting. Take away: make yourself visible when you're riding around motor vehicles.
Just as important, they help you see and be seen in all environments. If you're on an unlit stretch of bike path for example, in an effort to stay safely away from cars, you still need lights. They will allow you to see and avoid both obstacles and other path users in the dark, making for a far safer experience.
Lights come in all sizes and prices now so pick what works best for you. If you need a headlight to see by vs. simply to be seen, make sure it is bright enough to do the job and the battery life and recharging time fit into your schedule.
Lights to be seen by are just as important, but you've got a little more leeway in performance. Many will tell you blinking is better, but it's also critical to place the lights where they will be seen both at a distance and closeup.
Consider the eye level of the typical motorist. A flashing light at that height is bound to grab drivers' attention. Crucial here as well is ensuring that it points in the right direction. The fanciest, brightest, blinkiest light will be far less effective if it's worn too high on a backpack for example and facing the sky, or conversely flopping down toward the ground.
Prepare for Weather
Cycling is an outdoor activity, at least for me. That means dealing with whatever the weather serves up. No surprise, when I was a messenger in Seattle, rain was often on tap. Where I live now, and during my time as a messenger in Norway, snowy, sloppy conditions can be part of the mix as well. Getting wet and cold, as well as belongings getting soaked are things I like to avoid.
Besides clothing choices, fenders are perhaps the best way to hold moisture at bay while on the bike. It may not occur to many that spray from your wheels will soak you more than rain falling from the sky. And this effect can continue long after the rain stops. Upward spraying water will get in your eyes, splash your torso, and thoroughly soak your undercarriage. And being wet all day at work, that is not awesome.
Fenders block that spray and help keep you dry. How dry depends on how much coverage they provide, but by and large you'll be far better off than without. Some of my most hypothermic experiences ever have been in the rain on bikes. And that's saying something given I've also been a professional ski patroller in addition to being an avid cyclist. Trust me. Cold and wet is something to avoid.
How about your stuff? You want to keep it dry too, and a good pack can do that. Whether you go with something water resistant or fully waterproof will depend on what you feel is prudent. Are you carrying a laptop in driving rain? Well then, waterproof might be your choice. The most reliable messenger bag I ever had was literally a roll top drybag with backpack straps. It was very basic, but it worked. The good news is that since then, much more refined products have been developed with special accommodations for things like your laptop.
So there you go, a few simple pointers to set you up for bike commuting success. You will undoubtedly do a little trial and error experimenting before dialing in your own system. That's great! It's how we all learn, and it'll lead to rich, memorable experiences – on your bike.