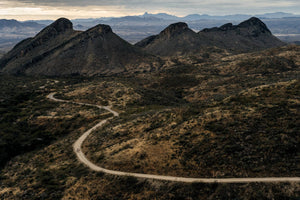 SIX EXPERT TIPS FOR SUCCESS
Words by Aaron Gulley
My inaugural attempt at bikepacking was kind of like the proverbial kid's first bike ride without training wheels: wobbly at first, a bit too much speed as I got the hang of it, and then an absolute, over-confident implosion.
This was well over a decade ago, when "bikepacking" wasn't a word and the predominant venue for endurance mountain biking was 24-hour racing. On one of my countless winter trips to the 24 Hours in the Old Pueblo, I began hearing talk of an April self-supported race from the Mexico border to Phoenix. Full of hubris from having ridden around in circles overnight with NASCAR-style pit support, I told friends I'd do the AZTR the next year. I commissioned packs for my bike (off-the-shelf didn't exist back then), shoved them in the closet when they arrived in the spring, and forgot about it. A year later, when the registration for AZTR opened, I signed up.
At this point, I still had never gone bikepacking, but how hard could it be?
Fast-forward to the night before my maiden AZTR start. I still had never been bikepacking, piles of Cliff Bars, Spandex, and tubes littered the floor of my hotel room in Sierra Vista, Arizona, and I was trying to cram everything into three bags about the size of an ordinary hiker's day pack. Picture a grocery store shopping spree with no dollar limit but only a shoebox for carrying your loot. I stayed up past midnight all but breaking seams and zippers on my new packs to fit everything I thought I needed. I started the next morning at 6 a.m. on a titanium race bike that was heavier than a downhill rig.
I rode off in record heat and went out with the confidence and speed of Usain Bolt destined for another record. By hour three, the cleat bolts on my new shoes had loosened so much that I couldn't unclip, but my excess of gear was so poorly packed that I had no idea where I'd put my multi-tool. So I just kept pedaling. I skipped the first resupply town, Patagonia, because I was carrying so much food I figured I didn't need it. However, by late afternoon I hadn't made the progress I'd expected and was out of water. I had no map—just a red line on a GPS—so I wasn't completely sure how far I was from hydration. My new shoes made it feel like someone was driving nails into my soles, the bike was so heavy it felt like Olympic powerlifting every time I had to clear a downed log, and I was cramping so badly that I hesitated to even shift for fear of full-body convulsions.
After nightfall, I reached water. I'd only gone 80ish miles, but I was so dehydrated my legs were locked out in corpse-like rigor mortis. I pawed through my piles of gear in the dark and couldn't find my Therma-rest, so I spread my sleeping bag and passed out on the hard ground. When I woke at dawn, gear was strewn like a bear had attacked, and I was so sore and tired I could barely lift my phone. When my wife arrived to collect me, she cooed over me like I was an injured dog and whisked me back to town to recover.
Though I didn't see the humor for some years, that first attempt at bikepacking is more comical than embarrassing. I did almost everything wrong. Failure aside, I went back to it, year on year, eventually finishing the AZT300, then setting a course record, then going on to bikepack all over the backcountry of the western US. From the full 800-mile AZT and the Colorado Trail to long passages of the Continental Divide and major self-supported adventures in Africa, Asia, and Europe, I've slowly honed my setup and refined my approach. Here are a few tips and tricks I wish I would have known on that first, fateful AZT outing.
START SMALL
This might sound second-nature, but don't start with the longest, hardest ride or race you can find—like I did. Get the gear you think you need, then schedule a single overnight and see how it goes. And on that first trip, plan for fewer miles than you think you can cover as packing and organizing and repacking will take more time than you expect. Keep notes along the way, then tweak your kit and your setup accordingly when you get home. There are likely many things you didn't need and perhaps a few items you want to add. Then do it again on another single overnight, and adjust accordingly. And again.
When you think you're dialed, plan a couple of long weekends and keep honing. By practicing in short, uncommitting stints, you're not only streamlining systems, you're also building endurance, learning to move efficiently with your gear, and preparing for those longer trips to come. By the time you slate a week or longer trip, you'll have a lot more fun because everything is so dialed.
GO LIGHT
While it's tempting to bring every creature comfort, the less you carry, the happier you'll be. Extra gear weight means extra strain on your body and longer days in the saddle. Lightweight gear is a definite advantage, but even more important is nixing items you don't need.
Sure, hot food tastes good, but a stove, fuel, and cook set adds bulk, so on short trips you might be better served stopping for cooked meals at restaurants along the route and making do with cold food (burritos, sandwiches) at night. Likewise, choose the least bulky, most versatile clothing possible: arm and knee warmers as opposed to tights, and a long-sleeve jersey or a waterproof vest that can replace a raincoat. Don't scrimp on things you need, but aim to carry nothing extraneous. For me, the mark of a successful trip is arriving home and realizing that I used every single thing I carried but didn't want for anything else.
GET ORGANIZED
A standard backpacking pack hovers around 40 to 50 liters of space, while you get maybe 15 liters from even the largest on-bike bikepacking packs and it's divided into three or four separate units. That means not only do you have to limit what you bring to the necessities, but you also need to be extremely cognizant of where you put everything. I've seen bikepackers spend hours futzing with equipment on the trail—searching for something they know they brought, organizing over and over again, constantly stopping and starting because they can't remember what went where—all at the expense of time and riding. The best way to save time and frustration is to build systems and organize gear by when and how it will be used.
I like to sort my gear by frequency of need and use. Camp food, clothes for the night, cook set, and anything I won't need during a day of riding goes in my seat bag, which remains buttoned up between camps except for emergencies. Shelter and bedding stows in the bar bag, which again stays closed all day. Tools, plug kit, spare tubes, water filter, and extra water stow in my frame bag, to which I have easy access. Sunblock, lip balm, snacks for the day, and other sundries fit in a top-tube pack for easy access. Any time you get something out, put it back in the exact same spot so you build habit and memory of where to find it.
MIND THE BACK
Weight on your back over the course of long days in the saddle makes for a tight neck, sore shoulders, fired up glutes, and lots of saddle pain. On short, overnight trips, I forgo a pack completely. More often than not, however, I carry a pack, but keep it as empty as possible. The primary load in the pack is a hydration bladder—I've found that even if I can figure out a way to put all water on the bike, I always drink more if I have a tube on my back with quick access. I also favor a pack with two small waistbelt compartments: One side carries a multi-tool for quick repairs; the other gets a miniature bottle of lube and tiny rag for frequent chain cleaning. Otherwise, the pack stays free for a spare layer if the weather is unpredictable or extra food and snacks I pick up (and plan to eat in relatively short order) along the way. My back thanks me later.
SEEK BALANCE
As with loading a pack for hiking, the placement of your gear while bikepacking can really affect how your bike handles. The best place for carrying is inside the frame's front triangle, as the weight is centered and keeps the bike planted—I like to put heavy tools, spare tubes, and extra water here. Bags on top of the top tube are also fairly neutral, though they can make it more difficult to mount and dismount your bike. A seat bag is a great spot for bulky, but light items (think: stove, sleep kit, dehydrated food). Weight in the handlebar bag can serve as a counterbalance to the rear, but up front it can make for squirrely steering and even unforeseen crashes. On predominantly dirt-road routes, I don't mind front-of-center weight. But for technical terrain, beware too much heft in front of handlebars as it can get ugly quickly.
Whatever you do, pack your bike well in advance of the trip and take multiple practice rides to get comfortable. Experiment with gear placement until you are at ease with the load.
BIGGER ISN'T BETTER
Other than adjusting your shock pressures for additional haul weight (a necessity), if you only make one modification to your bike for touring, install a smaller gear. With the added cargo you'll carry, a smaller than normal granny gear will likely mean the difference between being able to ride hard spots and lots of hiking and pushing your bike. My unloaded bikepacking rig, a custom-built hard tail, weighs around 23 pounds unloaded; that jumps up to between 36 and 50 pounds depending on the trip and cargo. So even though a 32-tooth chainring paired to a 10-50t cassette might be ample for normal, everyday riding, when I bikepack, I downsize to 28- or even 26-tooth up front, depending on the terrain. A smaller gear will keep you riding more terrain and your legs fresher for longer.